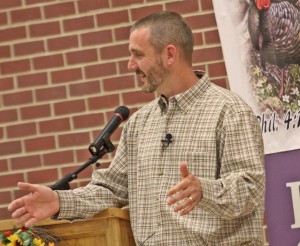 If you would like to book Zeke to speak for your event, please contact him through email at: zeke(at)hamilton(dot)net OR by calling Heartland EFC during the day at 308-946-2595.*
Zeke regularly speaks about:
The Gospel – Zeke's love for the outdoors is a distant second to his love for the grace of God through Jesus. In this talk, Zeke uses hunting and fishing stories to weave in his story of faith in Christ, and how that faith has changed his relationships and pursuits.
Men & friendship – Zeke talks about how the grace of God frees men to form strong brother-to-brother friendships, rather that competition-driven relationships.
Masculinity – This world presents so many confusing and mixed messages on what a man should look like, or how he should behave. In this talk, Zeke presents what the Bible describes as true masculinity and challenges men to be truthful, courageous, and loving husbands, fathers, and friends.
"Our guys thoroughly enjoyed listening to Zeke Pipher speak at our annual Wild Game Dinner outreach. His well-crafted stories about hunting, fishing, and family had everybody nodding, grinning, and laughing. And Zeke seamlessly wove his own story of faith in Jesus Christ into the mix–a very clear, simple, and compelling presentation of the gospel. Zeke's personal interaction with the men before and after he spoke demonstrated his authenticity and revealed his heart. He's the real deal, and we'd have him back again in heartbeat." – Pastor Matt Mitchell, Lanse Evangelical Free Church, Lanse, Pennsylvania, March 2017.

Zeke immediately captivated our audience and delivered a clear message. The time he took communicating with our community before and after his talk was also a joy for many. After the event, Zeke spent a couple hours talking with individuals who wanted to get to know him on a deeper level. He was extremely flexible in making our program for the evening work. We've already signed him up to speak for us again next year. – David Beltz, staff & spouse Christmas party – Bass Pro Shops, December 2016. (MO)

It was an absolute pleasure having Zeke with us for our Hunter's Banquet. He did an incredible job, and I was thankful for how the Spirit worked through Zeke and the way that his words were received by our audience. We were thrilled with the way that the event turned out and the impact that it had on the kingdom of God. – Christian Berg, Editor of Petersen's Bowhunting (PA)

Things went well with Zeke's talk and our event. We were down about 100 people, but there was more response to the message than ever. We had several people place their trust in Christ and several request more information. – Russ Tobey, Maxwell Sportsmen's Expo (NE)
(*Zeke is a full-time pastor and enjoys preaching most Sunday mornings at Heartland EFC in Central City, NE. For this reason, it is unlikely that Zeke will accept a speaking request for Saturday nights.)